MagFest Portfolio
Comprehensive Portfolio for MagFest 2024
Hello, please view the current full catalog here (will open to a new tab): https://oosp.studio/catalog/
The catalog contains what is currently available for sale. It was last updated July 2023. New product pipeline will be provided at the end. They are products that should be available by Jan 2024.
I created this separate portfolio for you after your suggestions from this year's portfolio review 🙂 Thank you so much! You can still view my previous portfolio here (will open to a new tab): https://oosp.studio/showcase/
I would love to have 2 tables if I am accepted, but if not, I would be honored to just have one. Even if not accepted, thank you for taking a look at my portfolio!
OOSP!
OOSP! is intentionally cute & deliberately mischievous and I think my art and products reflect that. I am a gamer at heart and I cater to that crowd and their personalities, because that's my personality as well. I believe people should be proud about the things they like and should decorate their lives accordingly. OOSP! contains an original art side with mascots with different personalities, as well as a fanart side. Fanart consists of art of characters from several different franchises: Nintendo (Mario, Kirby, Zelda, Pokemon, etc), Viz (One Piece, Chainsaw Man, Sailor Moon), Blizzard (Overwatch2), EA (Apex Legends), Riot Games (LoL, Valorant). There are some sprinkles of DnD & other types of games. I only bring these designs to gaming events.
Booth/Table Pictures and Mock ups
At my pop-up tables and booths, I prioritize a grab-and-go type of set up that allow guests to browse and shop effortlessly. I believe in providing a comfortable and interactive experience where guests can reach products themselves and have a hands-on approach to shopping, much like an actual retail store. It allows them to explore what I have to offer at their own pace, which I believes fosters a more engaging and enjoyable shopping experience. I know not everyone wants to interact with the shopkeep, so this type of display allows shy shoppers to also have a good experience as well. Having a little extra space enables this type of set up with the amount of products I offer and ultimately leaves a lasting impression on them.
Items that are/will be grab-and-go displayed:
| | |
| --- | --- |
| Peeking Decals | Mini Die Cut Stickers |
| Deco Sticker Sheets | Keychains & Jet Tags* |
| Phone Grips | Sticker Books |
| Enamel Pins* | License Plate Frames* |
| Mini Mascot Plush* | Acrylic Croc Charms* |
*items are currently in production phase and are expected to be available by Jan 2024
Items that are not grab-and-go & displayed too far for reach:
| | |
| --- | --- |
| Canvas Tote Bags | Apparel (Hats, Shirts, Outerwear) |
| Fleece Blanket | Deskmats |
Double Table Proposal (Image)
This is the mockup if I were to have a double table. I would have made an irl mock up, but I am unable to do so due to temporary personal circumstances (I live ~98miles away from my inventory). The mockup is based on previous set-ups I have recently done. If it were just one table, I wouldn't be able to bring all my merch and would have to heavily condense and leave things behind as I had to do the so recently for Anime Expo 2023.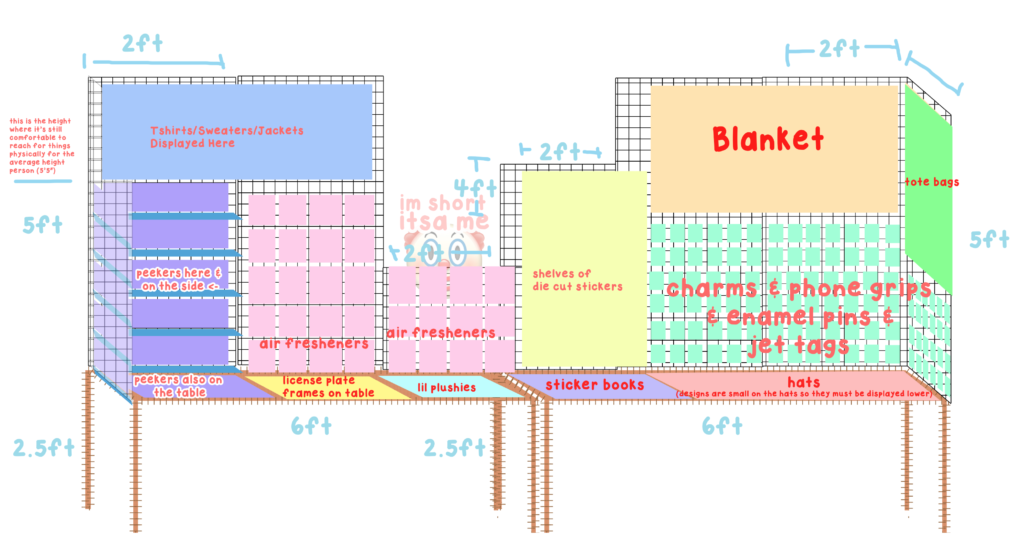 Previous Booth Pictures
Unfortunately, I don't have very current images, so what you see here will be repeats from last year's portfolio or mock ups of near future booths. Update 13-Sep-2023: I have a slightly updated double table layout available. It was at NDK in Denver. It doesn't look the way I want it to because I had shipping logistics problems so the overhead looks bare. Just pretend the blanket is displayed fully and add a couple of tshirt designs on the upper left :)…by the time MagFest happens…I will probably have more items to display, as I'm prepping heavily for TwitchCon right now.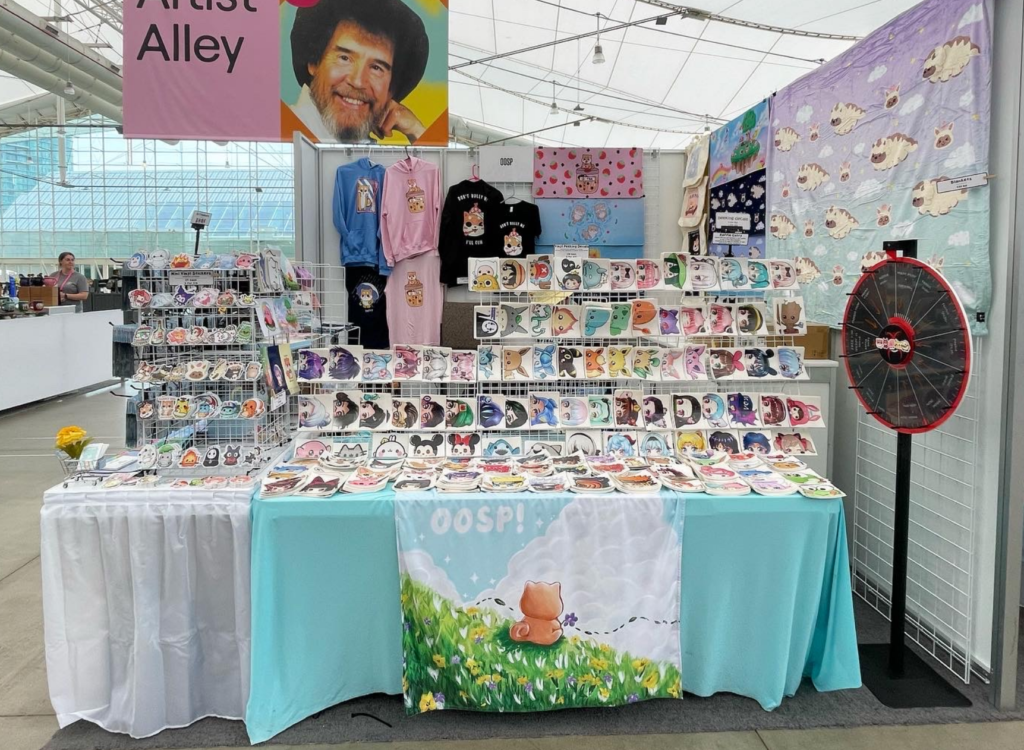 As you can see, this is mainly displayed to be grab-and-go. From this image, I think only one more tier of grid panels can be comfortably added before people cannot reach the products.
I was limited to a 6ft table at Anime Expo this year and while I made it work, I wasn't able to bring a lot of my designs because of it.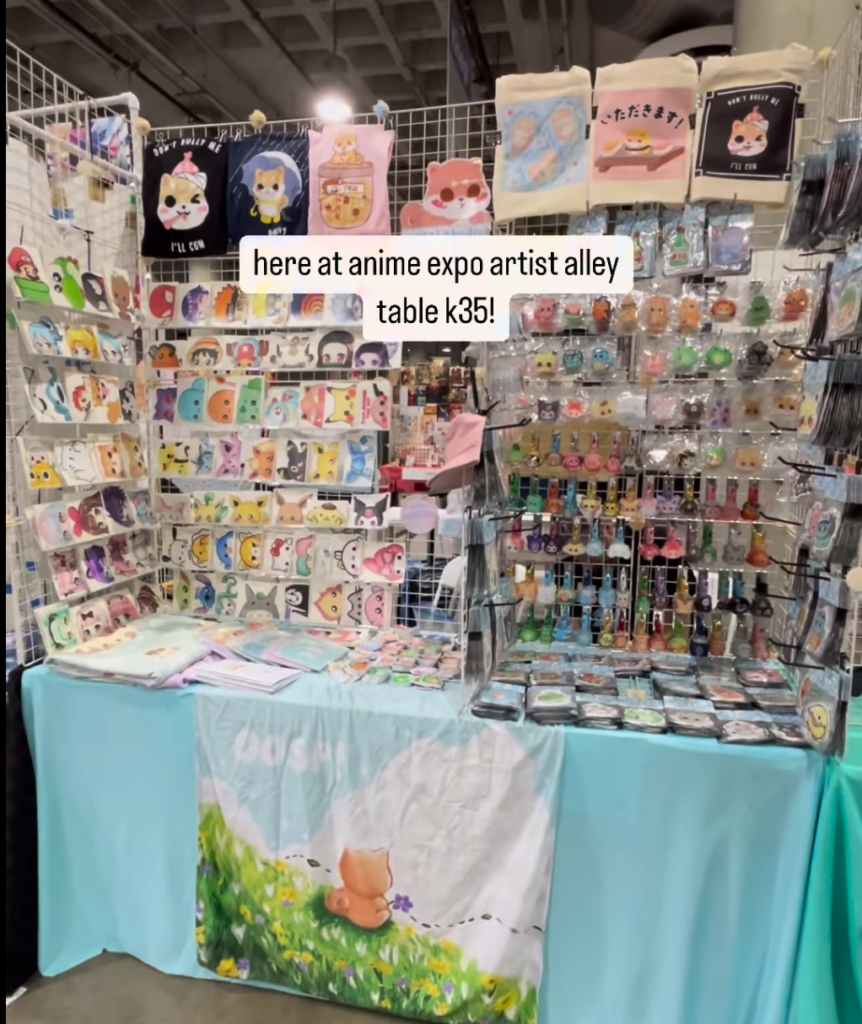 Critiques:
1) It's hard to see items that are flat down on the table but if I were to prop them up, it would also block the things that are on display.
2) Some designs of charms/air fresheners were not visible because of trying to condense everything in a small space
3) No deskmats were displayed. I was not able to display them up high because I have 6 designs & they are heavy and would have made the grids unstable.
4) The die cut stickers had to be stuck on the sides, so people were not able to see them if they came from the right side and would walk past the table.
5) I could not bring the rest of my apparel designs. People also could not really see the hats I had to offer.
6) The blanket could not properly be displayed.
Overall, I think it was an overstimulated mess because of the space constraint. I tried to have people look at my catalog but sometimes it's still hard. I have almost double the charms shown in this picture & 25% more air fresheners. I want to add maybe a row or two of peeking stickers to include more games that I love but I'm currently unable to.
Signage
I also now have cute signage with prices. This also takes up a little bit more space.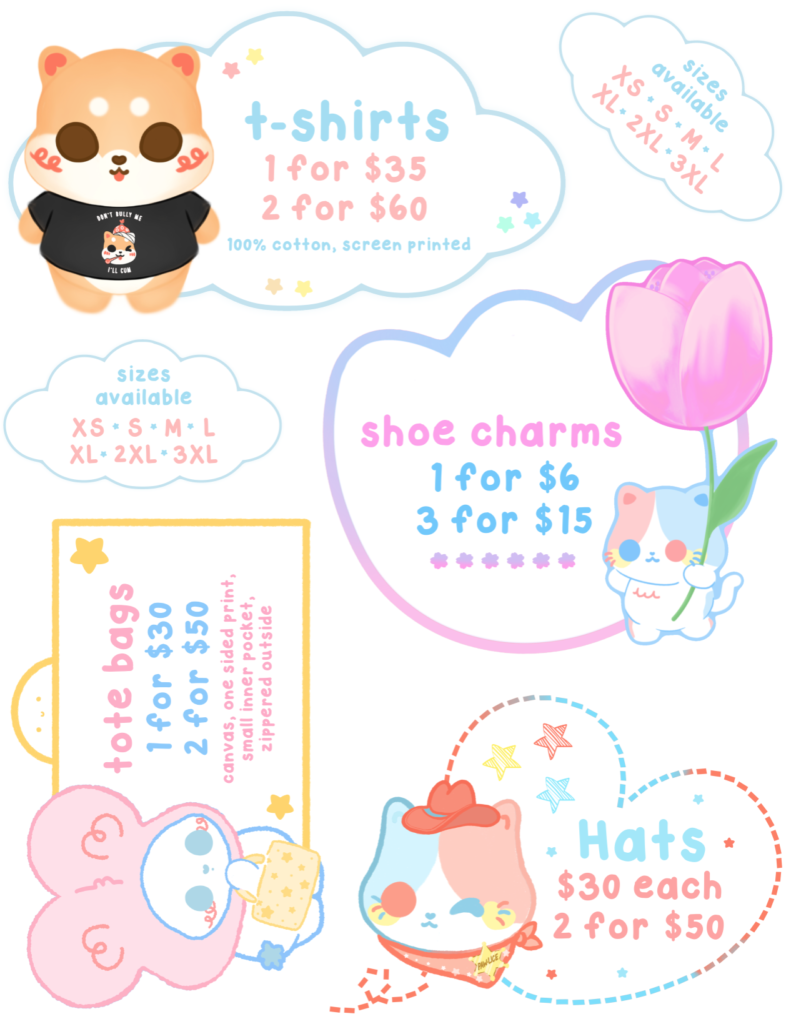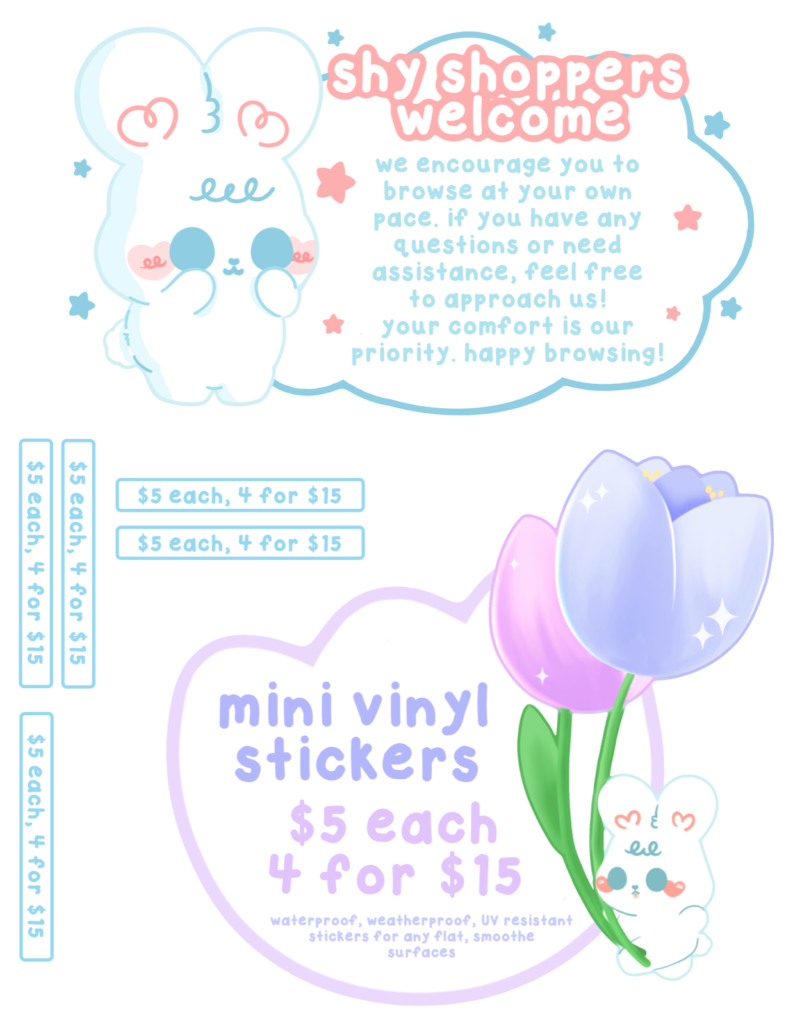 Future Product Pipeline
These are the products that are currently in production or are planned:
| | |
| --- | --- |
| Shoe Charms (Popular Designs) | Mini Mascot Plushie Keychain |
| License Plate Frames | Enamel Pins |
| Jet Tags | Reusable Tote Bags |
| Postcard Prints | More Designs |
Plushy
Sticker Sheets (More of a selection will be available)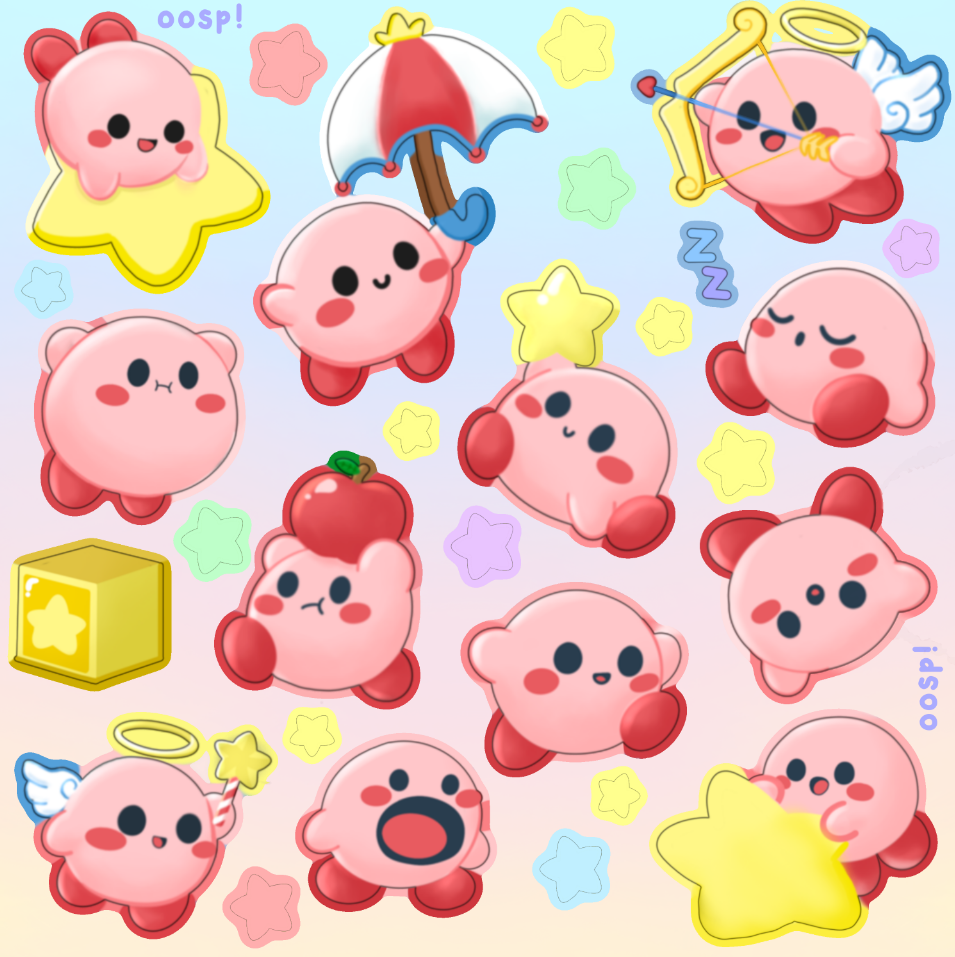 Enamel Pins (More of a selection will be available)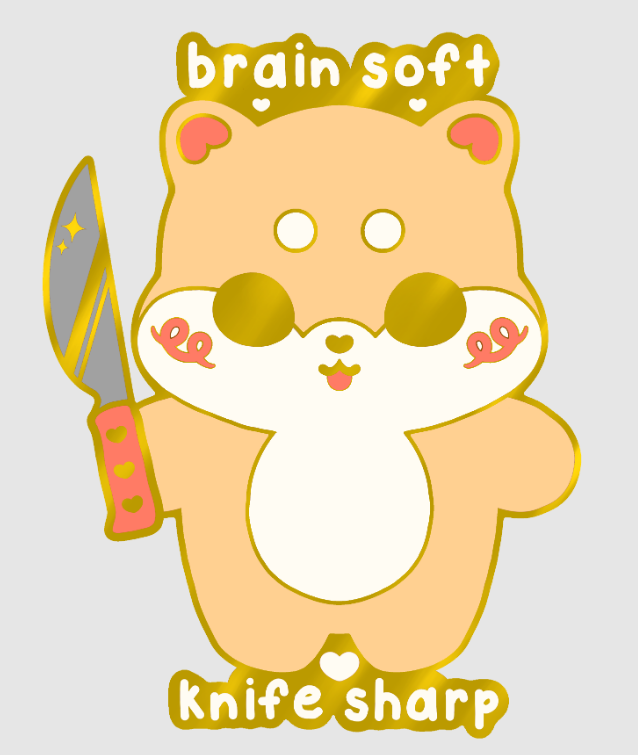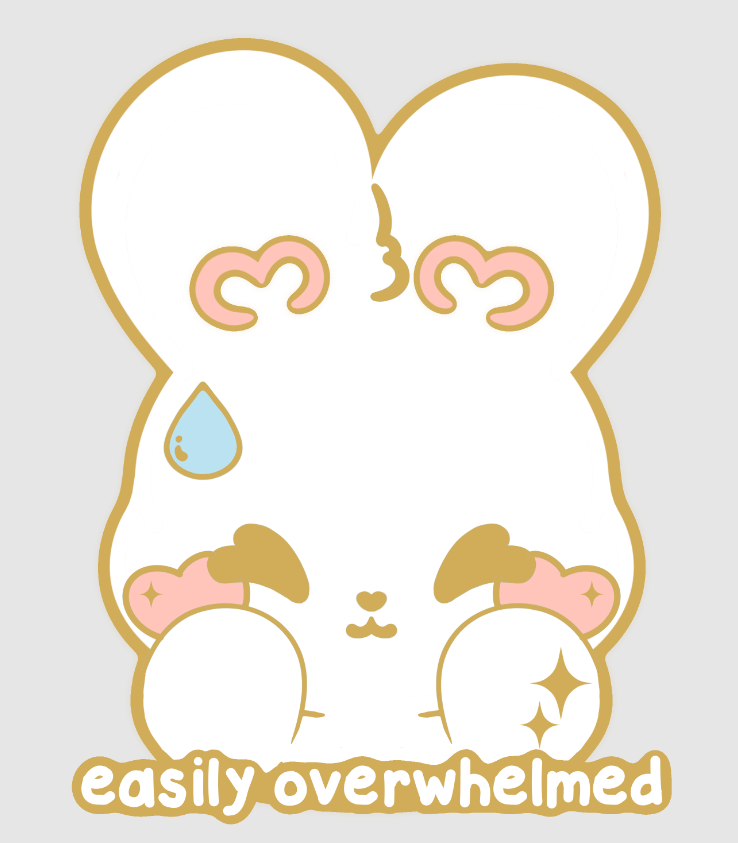 Fluffy Bucket Hats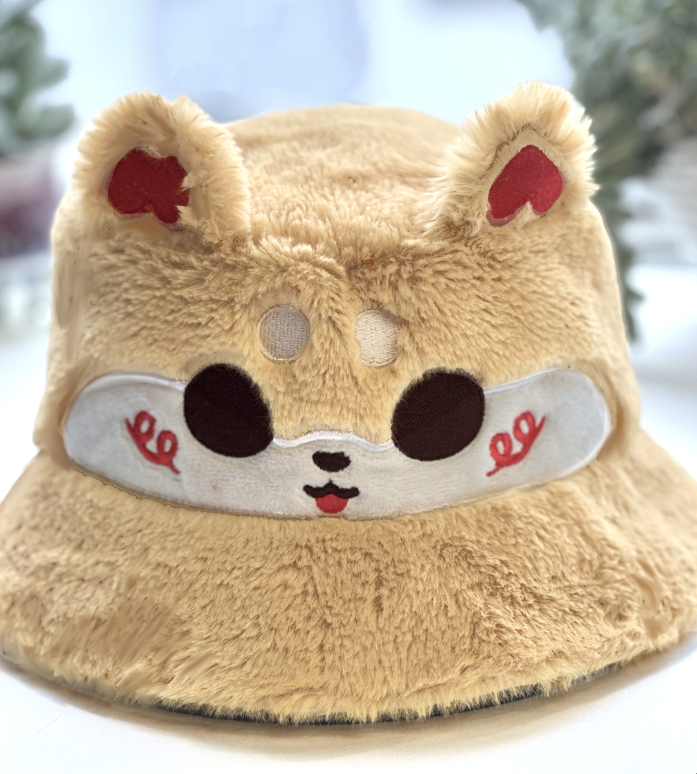 Freebie Tote Bags with Purchases over $50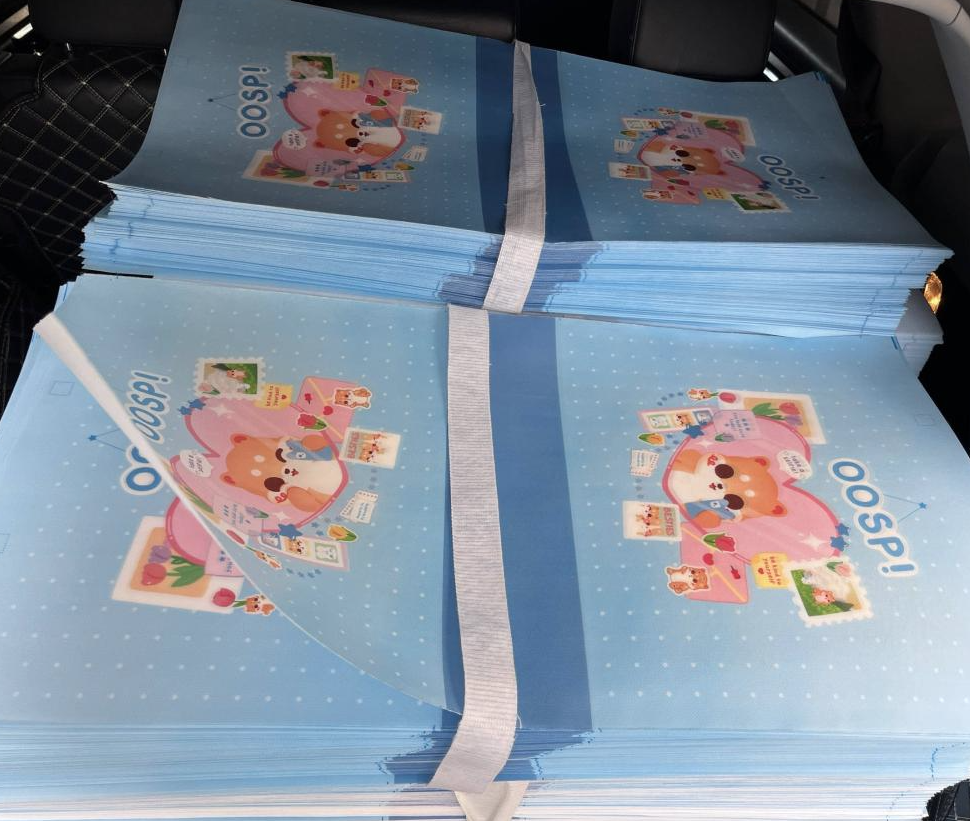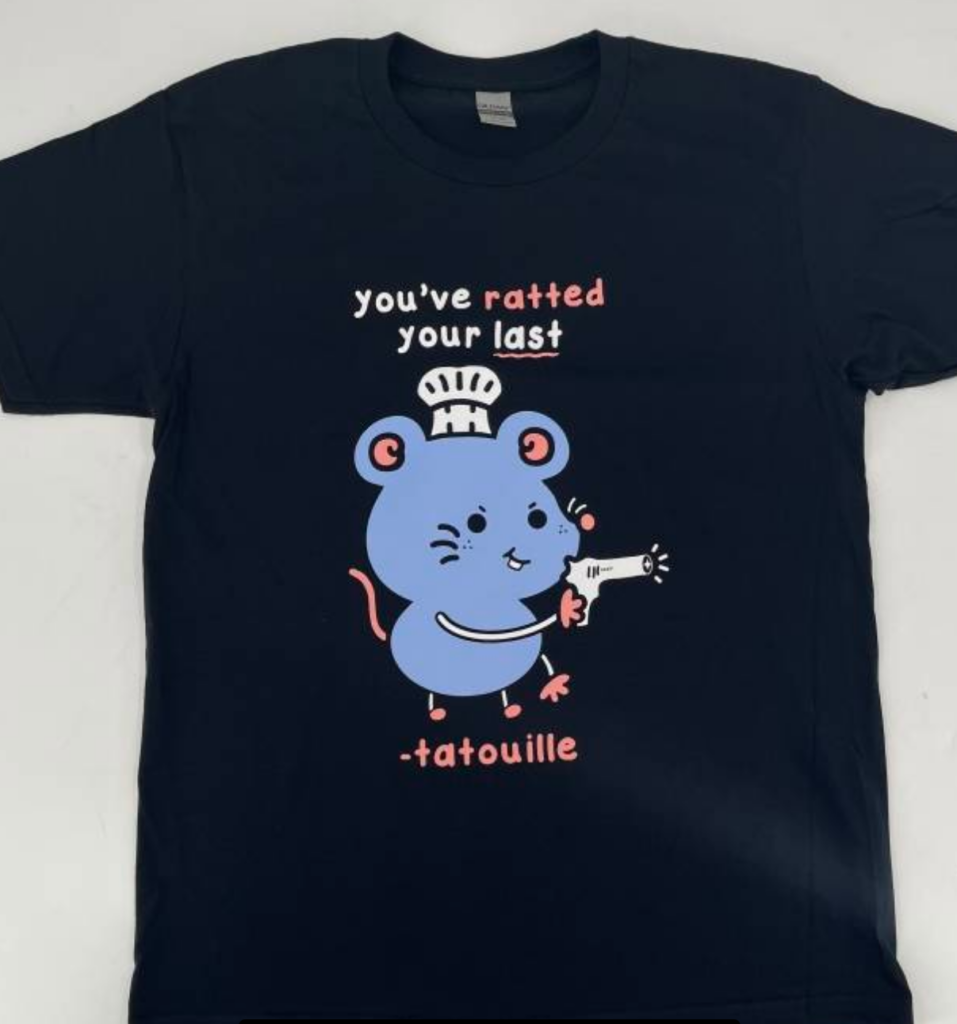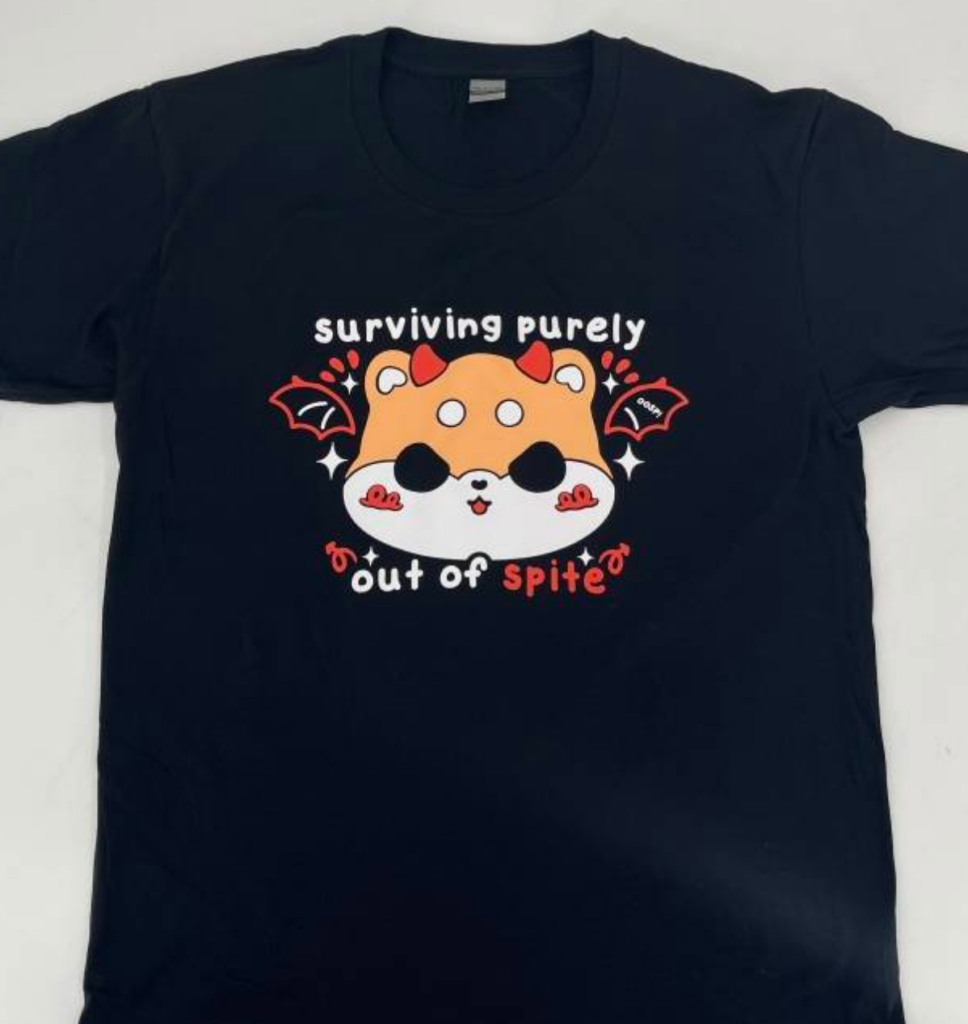 Additional T-Shirt (7 new designs), Sticker Book (3 new designs), and hat designs (9 new designs).
License plate frames
Currently in the brainstorming mode:
Cardholder wallets
Rubber Key Cap Covers
Plush Pouches
Conclusion
Honestly if you got to the end, thank you so much for even going through this!